Bluehost was launched in 2003 and was purchased by the Endurance International Group in 2001. Today, the company hosts over 2 million websites worldwide and is even recommended by WordPress. It is an affordable and popular unlimited shared hosting option with many additional features such as shared SSL and an anti-spam filter.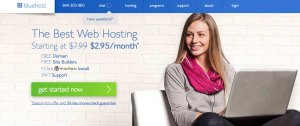 First Impressions
This hosting service uses modern standards for hardware, excels in dedicated and VPS hosting, and their customer support is extremely helpful. Their packages have a high usability and affordability. Bluehost is a favorite thanks to its unlimited emails, marketing credits, free domains, and other useful features. For the beginners among you, the hosting provider has updated their user experience and made is more user-friendly throughout the years. The customer experience is bound to run smoothly and their dashboard is simple to manage.
WordPress hosting on a cloud, shared, or dedicated server is made possible with Bluehost. Users can install this blogging platform via the control panel in one click, or ask the managed services team to do it for them.
Functionality
Bluehost has an important feature that users should not neglect. Usually, when purchasing a web hosting service, one checks every tiny detail meticulously, minus the backup service. Going over the backup policy before acquiring any web hosting should be part of a buyer's priority.
Luckily, Bluehost creates daily, weekly, and monthly automatic backups of all their users' accounts and lets them restore it in a few clicks. For those running a big website, the hosting provider also offers Pro Backup service to protect their data.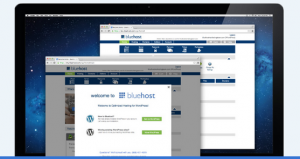 One of Bluehost's most impressive feature has to be CPU Throttling, which is synonymous to dynamic frequency scaling. It is a specific process meant to reduce the CPU usage before the processor gets overheated and deteriorates. Still, when it comes to web hosting, the process differs. When too many users are simultaneously on a shared server, CPU resources are being used excessively. This causes the CPU to freeze your CPU usage on your account. Subsequently, your website will slow down significantly and only the hosting company decides when to release it. Bluehost has found a handy solution to that problem, which is called CPU Throttling.
Main Features
The hosting's user-friendly control panel is easy to use, administer, and manage. Installing different types of scripts such as Joomla, WordPress, phpBB, and others is simple. Users can create email IDs that are linked to their domain name. Other features in cPanel are FTP public account, emails forwarding, creating and managing the database, and more.
The main features included in your Bluehost subscription are the unlimited bandwidth, 24/7 supportive response behavior, simple scripts with 1-click install, 30-days money-back guarantee, fast and secure servers, and higher storage space for starter plans.
Security is of utmost importance when working online, and without the proper security protocols, your website could get infected or hackers could easily attack your site. Bluehost offers shared hosting users and others secure servers for their site. All their hosting plans are affordable and highly recommendable for smaller websites or blogs.
Issues with Bluehost
Bluehost asks their users to pay a fee of $149.99 if they change websites. This is unfortunate, since most hosting companies do this for free.
The prices are higher when you renew your account, because the new customers get the best discounts. All hosting providers want to attract new users, which is understandable. The rates are still quite affordable without the highest discounts.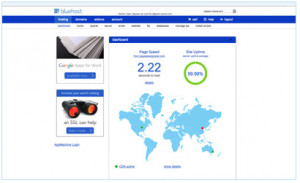 Unfortunately, Bluehost does not perform as high as its competitors in terms of uptime, which means it scored lower than 99.94%. It loads pages quite slowly, which influences profit margins and user experiences negatively.
Their customer service is professional, yet does not respond to their users quickly enough, especially during the peak hours.
Pricing
There are three Bluehost shared hosting options users can choose from. They must commit to a subscription for minimum 12 months or more. The rates for a three year plan are as follows: a Basic plan for $3.49/month with one website, 5 email accounts, unlimited bandwidth, and 50GB storage. A Plus plan for $5.95/month includes 10 websites, 100 email accounts, unlimited bandwidth, and 150GB storage. A Business Pro plan for $13.95/month containing storage, unlimited websites, email storage, bandwidth, and email account.
Conclusion
If you need to quickly get a website up and running, Bluehost is a great option. It is truly one of the best web hosting services in the market today, which offers its users great service and many features.