I used to rely solely on social media to get the word out about my website.
I found it to be an effective way to inform my followers of new content.
Then one day I began reading about the effectiveness of using the best email marketing services to create a marketing strategy and decided to broaden my horizons.
The results?
Not only did my traffic increase exponentially using simple email marketing software, I was getting substantially more views on my latest content than I once did when all I used was social media to disseminate my writing.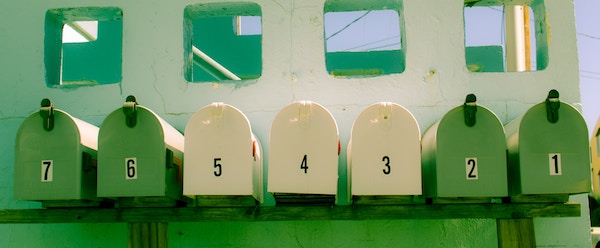 How could I have ignored this ingenious content delivery mechanism for so long!?
More importantly, why would anyone?
Compiled below is a list of software that you can begin using to promote your hard work TODAY.
But first…
Who Should Perform Email Marketing?
One of the things that prevented me from performing email campaigns was the belief that it was inappropriate for the niche that I was serving.
I thought that only big businesses and "real professionals" needed to create an email list.
But I couldn't have been farther from the truth.
In fact, I now believe that anyone who owns their own website should look into compiling an email list. These include bloggers, artists, small business owners, and eCommerce stores.
Why?
Because it guarantees that fewer of your visitors will be "one-and-done" views, it can help you improve your content, and it can even earn you money.
Still not convinced?
Imagine if one day your social media accounts were all frozen or deleted. What would you do to reconnect with those users?
Compiling an email base ensures that you will always have access to your base no matter what happens to your other means of connection.
Now that you're convinced, I'm happy to present…
The Best Email Marketing Software

MailChimp
MailChimp is my top email campaigning solution because it is easy to use and affordable.
Number one among small businesses, the service is responsible for sending out over ONE BILLION emails every single day.
Here's what I like about them:
1. MailChimp includes tons of premade templates that are beautiful and modern and work with all kinds of email campaigns.
Unlike other services that are still using the same stale designs, MailChimp knows the importance of aesthetics.
2. MailChimp is really user-friendly. Similar to a website builder, the platform uses a campaign builder that enables you to determine the layout of your mailings.
3. It is daunting to consider the amount of time and effort it takes to send out mailings, but with its automation feature, MailChimp can do the heavy lifting for you.
In fact, the service offers a list of pre-built automations that you can choose from so that you have complete control of the process.
Here's what I dislike about them:
1. MailChimp uses a double opt-in policy, which tends to drop off users along the way.
Additionally, the service doesn't cater to all industries or content types. Of course, most users don't fall into these categories, but it could be a non-starter for some websites.
Bottom Line:
MailChimp has a really generous free package that can handle up to 2,000 subscribers and allows you to send 12,000 emails per month.
At that price, and with the features listed above, MailChimp is the best deal I've found and should be your first consideration.
Constant Contact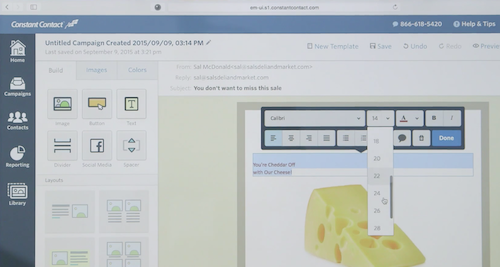 Constant Contact was one of the original email list options and over the years they have been able to lead the market and learn from the competition.
Here's what I like about them:
1. Constant Contact's template library is one of the most thorough, with different options for seemingly every kind of website or business out there.
Although the designs range from modern to admittedly stale, there is definitely something for everyone and all styles.
2. Constant Contact has extremely reliable numbers, with 98% of their emails reaching inboxes (as opposed to spam folders). Compare that to the 77% average rate of the competition.
This means that whether you send out a daily, weekly, or monthly email, it's a safe bet that you will reach the optimal number of users.
3. The service is perfect for those looking for something that just works. It may not be as flashy as the competition, but Constant Contact is reliable, easy to use, and has just the right amount of features for typical users.
Here's what I dislike about them:
1. The customization level of the on-site opt-in forms available to users is limited. This is frustrating because it can stick out like a sore thumb on unique sites and especially those that employ uncommon elements and designs.
Bottom Line:
There is a reason why Constant Contact has lasted as long as it has. It's an extremely reliable and simple platform.
You can begin using the service today for free. Your initial trial will last for 60 days and monthly plans begin at $20 per month.
Active Campaign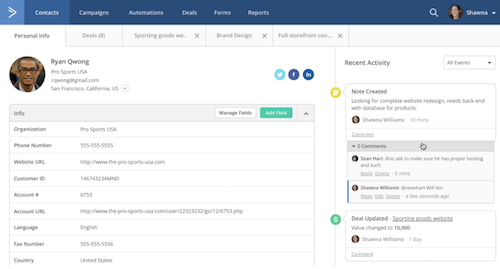 I would be remiss if I did not include Active Campaign on this list. Although it is geared toward larger organizations, this fully-featured service offers many things that will appeal to all users.
Here's what I like about them:
1. Active Campaign is a very effective email promotion tool. It performs tasks like sending out email campaigns, automation, and segmentation with ease.
This means that you can focus on Active Campaign's more advanced features and building your email list.
2.  Active Campaign includes a customer relationship management (CRM) tool, negating the need for your business to invest in an addition and more robust (read: expensive) option.
Using Active Campaign's CRM, you can manage contacts based on interest level and pursue them more vigorously than those less likely to convert.
3. Users can take advantage of a really cool trigger feature that applies different rules to a user's status based on how they interact with your emails.
These triggers include opening/reading an email, sharing an email, entering a pipeline, and converting.
Here's what I dislike about them:
1. Although the advanced features of Active Campaign are extremely helpful, they may be a little expensive for people with more basic expectations.
I am aware that this represents most of the readers of my site, but I am also confident that there are those readers for whom this will appeal.
Bottom Line:
Active Campaign is the most advanced option on my list. You will pay for those premium features, but you definitely get what you pay for.
A basic plan begins at just $9, but adding on useful features increases that price to $49 per month.
I hope you found this list of email providers helpful, fair, and balanced. On the one hand, I don't want to inundate you with options, but on the other, I did want to provide you a spectrum of choices for every kind of website.
I'd love to hear about your email successes and failures! Get in touch and share your best stories!