Websitebuilder.com was launched in 2014 and provides assistance to anyone wanting to build a website from scratch. Whether they need a unique website for themselves or for business purposes. It is a beginner-friendly platform that offers users a free domain for life with each account. Websitebuilder.com has several affordable plans and a wide array of handy features.
First Impressions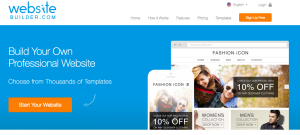 If you are looking to make a website for the first time, this website builder can help you achieve your goal easily. First, a simple signup process takes place, and then the user is asked to choose one of their many beautiful templates for their website. This will lay the foundation for the look and feel of your site. To add content, you will be able to work with the user-friendly drag and drop editor. There are many features included in the affordable plans, which makes websitebuilder.com a great option to consider.
Functionality
Websitebuilder.com has an easy to use editor. It is not complicated, nor confusing for beginners or more advanced users. You will be able to drag and drop videos, images, text boxes, and many other elements. They will remain aligned thanks to the efficient column grid and ruler. These elements will appear on your website exactly how you had arranged them in the editor.
There are many tools and features in order for the tech-savvy user to stay intrigued. Every template has wonderful animation options incorporated into it. Users will notice how the c-panel is incredibly sleek and organized.
Main and Additional Features
This platform has a collection of over one thousand different themes in their library. Whatever the purpose of your website, you are guaranteed to find it here. There are more professional templates, as well as minimalistic ones with simple colors and clean lines. Users looking for a particular theme or very colorful templates will also find this on websitebuilder.com. You can use a blank template if you are confident about your designing skills or if you need a basic one for multiple purposes. The platform also provides users with additional add-ons for creating a unique website.

If you use your website for professional reasons, you will be glad to know that websitebuilder.com provides its users with features to enhance views and sales. In order to view search engine optimization (SEO) reports, you will have to head to the detailed SEO section. This is an important step in attracting as many viewers and customers as possible. Users are allowed to put ad space on their sites, in addition to getting ad credit to advertise elsewhere. Other handy features include add-ons for eCommerce websites, an email assist option, access to the Priority Support to receive help quickly, and much more.
Issues with Websitebuilder.com
This platform is great overall, yet it does lack in a few areas. A free account will not suffice in order to make a nice and completely functional website. Only free hosting is included in websitebuilder.com's free plan, which means that its features are greatly limited. On top of that, free plans always come with ads of the platform itself, which is usually not very appealing to your visitors.
There are no video tutorials available for anyone who needs help setting up their site. Also, no community support was found in order to discuss tips or exchange advice.
Pricing
There are five plans to choose from on websitebuilder.com: Starter, Personal, Premium, Business, and eCommerce. The Starter plan is free and includes free hosting. The personal plan includes free hosting, free domain, and free ad credits for $7.99/month.
The Premium plan includes free hosting, free domain, free ad credits, SEO & marketing help, and Mobile sites for $5.99/month. The Business plan includes free domain, hosting, and ad credits. Also, SEO & marketing help, mobile sites, free email, and priority support for $6.99/month. The eCommerce plan has all the features of the Business plan, plus eCommerce for $11.99/month.
Conclusion
Websitebuilder.com is a simple to use and affordable website builder for beginners and advanced users. You can easily create a professional-looking website from scratch with the help of their many templates. The free plan allows anyone to browse through the features before committing to a paid plan.